For over 20 years Glasser Bows has been Larsen's exclusive importer for North America. The cooperation between the companies has forged a deep friendship. The companies have grown together and Glasser is honored to represent Larsen in North America and bring these strings to you.
Larsen offers four distinct violin brands, each engineered for a different musician. These options allow the musician the ability to find the right "flavor" for their own instrument and style. All brands are available in sets or individual strings with loop or ball E options.
Original Violin
Larsen Original delivers a warm yet direct feel with stability and consistency of sound. Original, reliable, robust projection, ideal for the brighter to neutral sounding instrument in need of warmth. Available in medium and strong tension, with both steel and a gold-plated E options.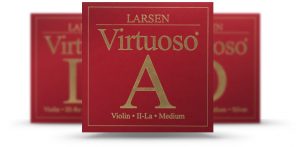 Virtuoso® Violin
Virtuoso is engineered to resonate at a lower tension than conventional gauges. The ambition was to create an innovative synthetic core string capable of delivering a richly nuanced sound with exceptional volume, perfect for instruments that benefit from reduced tension. The medium tension strings show extraordinary response, playability and sound modulation capability, while the strong is more focused in sound.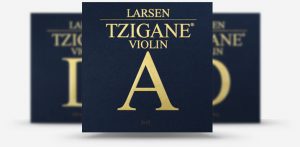 Tzigane® Violin
Directly inspired by Ravel's Tzigane, these strings deliver a richly smooth, saturated, sound with an overlay of sensual warmth. With excellent focus and projection, these are a mellow accompaniment for the brighter to neutral sounding instrument. Available in medium and strong, strong offers the most volume and resistance to the bow, ideal for bright violins.
Il Cannone® Violin
Larsen celebrates Paganini's legacy with a truly revolutionary sound. The playability and feel on the fingerboard is excellent with good resistance to the bow. Il Cannone has the power to carry the concert hall, yet still has a warmth not always found in professional strings. Available in Soloist and medium versions, Il Cannone is a great choice for players at the highest levels.
Since its original launch back in 1995, the Larsen Viola A has very nearly become the default choice as the foundation for the ideal viola set. Offering excellent projection with a broad spectrum of sound colors combined with a long lasting and consistent performance, advancing and professional violists worldwide use this string as their "go-to" A string.
Original Viola
Offering versatility and projection combined with long lasting and consistent performance. Original lends a lovely mellow sound, while strong offers brightness and power. The Viola A string is made on a solid steel core, while the D, G, and C strings are made with a unique multi-filament nylon core. All strings are offered in medium and strong, the A string is also available in soft.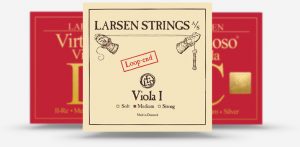 Virtuoso® Viola
Larsen has been seeking a compliment to the popular A, and has found it with the development of the Virtuoso for Viola. The Original A string is based upon a solid steel core, the Virtuoso D, G and C strings are upon a synthetic multi-filament core, wound with pure silver. Available in medium and Soloist, and now also offered in a longer scale for 16 1/2+" instruments that require a longer vibrating length.
The Larsen name is synonymous with fine cello strings played by top musicians world-wide. Larsen offers several different types of cello strings, each purpose-driven with different artists and instruments in mind.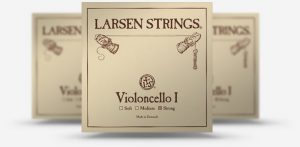 Original Cello
The Larsen E string is made of carbon steel. The A, D and G strings are made using a multi-filament nylon core. The A string is wound with precision rolled aluminum flat wire and the D and G strings with pure silver.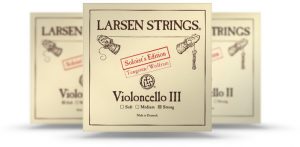 Soloist Cello
Original Soloist features enhanced projection, focus, and volume, particularly at the higher harmonics required by the professional solo player. Soloist is offered in all three tensions for A, D and G, optimized slightly above the Original equivalents. The A and D strings are wound with precision rolled stainless steel flat wire, the G string with tungsten.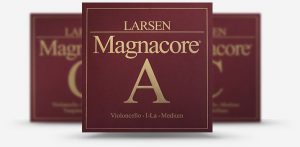 Cello Magnacore®
The Perfected Set. Magnacore is an extremely well-balanced set for the professional cellist, offering a charismatic sound with an endless palette of colors to work with. The regular Magnacore sets are designed for symphony and solo players looking for power and balance.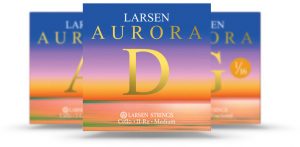 Aurora
Your first step on the Larsen journey begins with Aurora Strings for cello. Aurora represent great value without compromise.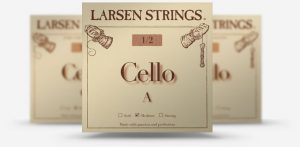 Cello Fractional
The same high grade steel cores wound for A and D in stainless steel flat wire, while G and C are based on a concentric multi-stranded steel core wound with high grade tungsten. All supplied bespoke for 3/4, 1/2, 1/4, and 1/8 size cello. Medium tension only.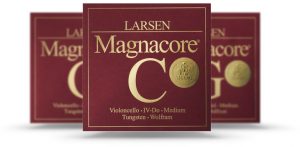 Magnacore® Arioso
The Arioso version was designed for the gourmet musician experimenting with new combinations of sound texture and color. Arioso is particularly well suited to both modern and older Italian instruments that benefit from lower tension. All Magnacore options available in 4/4 only.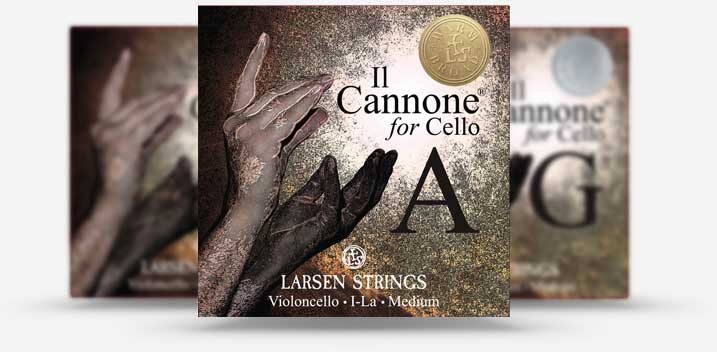 Il Cannone® cello
The new Larsen Strings Il Cannone cello range has been hailed as a step change in cello string development. Available in two variants, Direct & Focused and Warm & Broad, all eight strings are mutually compatible and fully interchangeable. By design. Il Cannone for cello gives you a toolbox of options to choose from to optimise your individual sound.