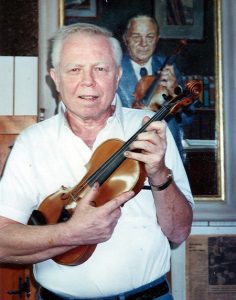 The history of Glasser Bows is one that combines a total commitment to quality with a passion for innovation. Our company traces its roots back to 1938, when Leon Glasser began handcrafting wooden bows in his small Bronx, New York workshop. Today, our patented bows and patent-pending carbon instruments are marketed globally. 
Four generations of the Glasser family have been committed to making innovative products. Glasser has been responsible for many "firsts" that have revolutionized bow, instrument, and accessory making. We have progressively replaced wood with composite materials, first with fiberglass, then carbon fiber.

In the 1960's Leon and Ray Glasser invented the fiberglass violin and bow. They were awarded U.S. patents for their work which ushered in the era of composite instruments and bows. In 2003, Glasser invented the braided carbon fiber bow, and was awarded a U.S. patent in 2007. In 2000, Glasser was honored to be selected as the exclusive importer of Larsen Strings in North America.
Glasser will continue bring new products and ideas to bow, instrument, and accessory making. Our devoted customers would expect nothing less from the company that has set the standard for excellence in products and service for over 80 years. Thank you to the distributors and Glasser Authorized Dealers who have been so loyal to Glasser Bows and products. We look forward to working with you for many years to come!